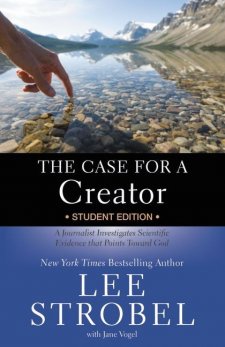 If you've never heard of Lee Strobel, when he was a high school freshman, science convinced him that God didn't exist. But since then, however, incredible scientific discoveries have not only helped restore Lee's faith, but have strengthened it. Today Lee Strobel is author, journalist, apologist and pastor. He has written several books, including The Case for Christ and the Case for Faith.
Brand new to Zondervan are 4 exciting "student edition" devotionals; each based off of Lee's famous titles; the case for Christ, case for the real Jesus, the Case for Faith and the Case for a creator.
The Case for a creator is not so much an argument to prove the existence of God, but more so to prove that the World did not just "appear" or "evolve." Its during the teen years that I think many people develop these questions and doubts about "well, where did the world come from?" And for the most part High School science tries to answer that question.
And the by the time the students enter college, their faith gets harder and harder to defend.
Mr. Stobel makes a compelling argument for the science that proves their was a "designer" to it all. Looking at the world if cosmology, physics, biochemistry, and biological data, Lee Strobel argues that the world didn't just appear, it was "created."
I think this is a great book for Sunday School teachers, parents of teenagers and of course… teenagers themselves. Buy a copy for your son or daughter that has questions and then pick up an extra copy for your church library.
Thank you to Zondervan for this preview copy in exchange for a fair and honest review.