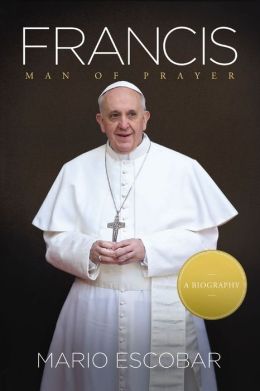 Mario Escobar Golderos has written numerous books and articles about the Inquisition, the Protestant Reformation, and religious sects. A passionate history author, Escobar has delved into the depths of church history, the different sectarian groups that have struggled therein, and the discovery and colonization of the Americas. His books typically specialize in the lives of unorthodox Spaniards and Americans.
I know as a Christian who was raised in Protestant churches, I have little to no information about who the Popes are. I mean, aside from seeing them on TV, or hearing a joke begin with, "So the Pope walks into a bar…" I don't know much about the papacy.  I was kind of hoping that this book would be a good introduction to the newest Pope; Jorge Mario Bergoglio.
And the good news is Mario (the author) spends the first portion of the book on Pope Francis' upbringing and childhood. It paints an even fairly straightforward picture of his early years.  The book then takes a sleight shift and spends a good portion talking about the process of voting for the next Pope. You know, the whole secret meeting, Cardinals and white smoke thing? Yea, it's called a "Papal Conclave" And to be fair to this section, as an outsider looking in, it is neat information behind the (literal) closed doors of Catholicism, but I was hoping for maybe a bit more about Pope Francis himself.
But now the book really shifts gears and Mario leaves behind Pope Francis to discuss his own personal take on where the Papacy is headed (or should be headed). If I had started to loose interest in the Conclave, by now I was done and I didn't really finish the book if I were to be honest with you.  In the end, the book was disappointing, I was hoping more for a biography, but it felt like Mario wanted to write a book about Pope Francis, but didn't have enough information.
The book felt "padded" for content. In fact, it felt more like a "book report" about the Pope and his job – then it did an actual biography. But again, if someone was wanting a short overview (nothing to heavy) on this new Pope and his role, then perhaps Mario's book is for you.
Thank you to Thomas Nelson for this free review copy