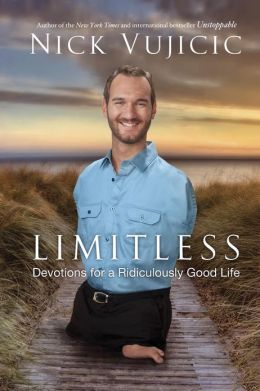 Nicholas James "Nick" Vujicic is a Serbian Australian evangelist and motivational speaker born with tetra-amelia syndrome, a rare disorder characterized by the absence of all four limbs. Nick is also the author of three books, his most popular being "Life Without Limbs"
His companion devotional book "Limitless" contains 50 readings to inspire and motive you towards what he calls the "ridiculously good life." Clearly this book is a companion to his earlier work "life without limbs" you won't get his story or auto biography in this book, more so it feels like more inspirational stories from his life that perhaps didn't make it into his earlier work.
That is to say, Limitless is certainly awe inspiring and motivational, each devotional is a quick and easy read that follows some biblical truth or passage. This book could probably also be used in a small group setting in a church. But more so I think this would make a better "gifted" item for someone who needs this sort of "pick me up."
If you are unfamiliar with Nick's story, I would recommend you pick up "Life Without Limbs" first.
Thanks to Waterbrook Multnomah and the Blogging for Books program for the copy of this book in exchange for review.